Hop to It: The Airy Appeal of Hopsack
August 15th, 2022
As temperatures rise, those who aspire to dress well often look to linen. And while we don't have a bad word to say about linen — we positively love Irish linen — we realize that its guaranteed-to-wrinkle nature isn't for everyone. In which case, we advise clients to look to the lesser known but equally effective counter to heat and humidity: hopsack weave.
We say "weave," rather than "fabric," because that's precisely what hopsack is: a type of loosely woven, highly visible basket weave that was commonly used to make the hemp sacks English merchants once used to transport hops and other dry goods (hence, "hopsack"). The open weave promoting air circulation and ventilation being ideal for the purpose.
Different mills have varying interpretations of modern day hopsacks, but England's Holland & Sherry continues to be a top purveyor. Via its "Mesh & Hopsack Blazers" book, the mill offers a traditional hopsack in a 40% silk, 35% linen, and 25% worsted wool blend, as well as 100% worsted wool fabrics in an even more open "mesh" weave.
While either incarnations will perform admirably in warmer weather, the mesh is a true stand out in harsh temperatures, particularly if the blazer or sportcoat is unlined as this allows air to pass directly through the garment. To see just how open a mesh or hopsack weave is, hold it up to a light source and notice how easily the light passes through it.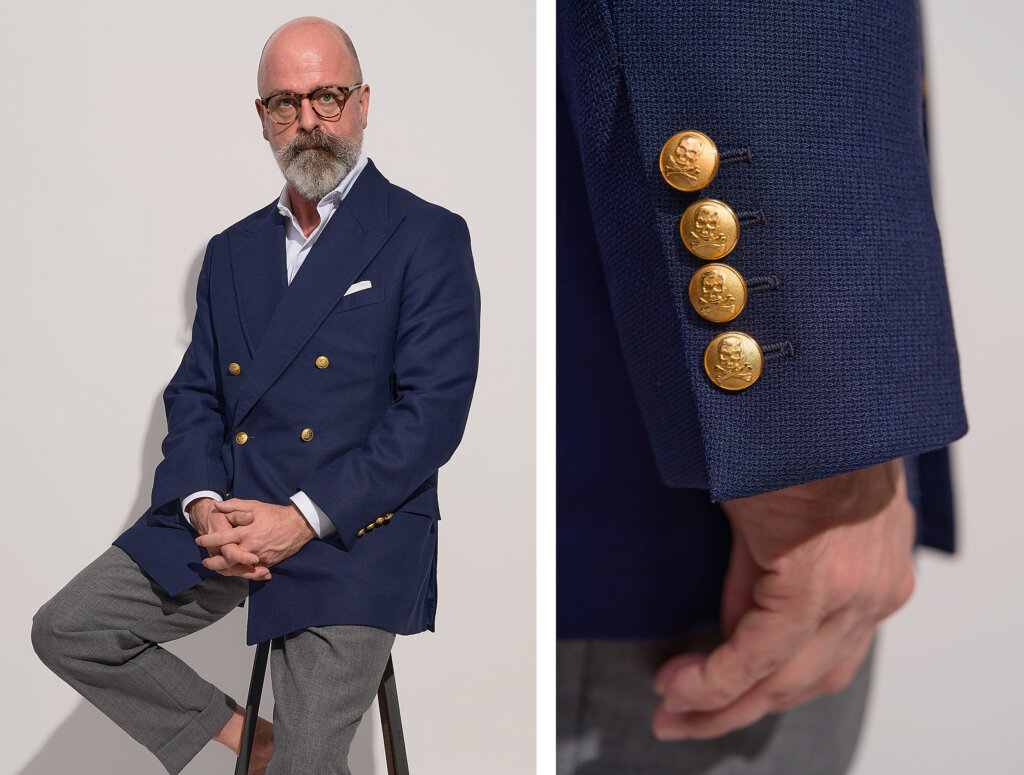 Not limited to Holland & Sherry, another standout is the mock leno that appears in the "Fresco III" bunch from Huddersfield Fine Worsteds. Like the other fabrics in the book, the mock leno is a 100% high-twist wool that's delightfully springy and resistant to wrinkles but possessed of a more open weave that increases breathability and makes it visually comparable to hopsack.
Before we depart, a small word of note. Hopsack and its similar weaves make for excellent four-season or summer-specific sportcoats, but are not so ideal for stand alone pants. The open weave and raised texture can be vulnerable to chafing and snags, which isn't such a problem up top but presents a more significant challenge below. In other words, you can have a pair of hopsack pants made to form a suit or be worn as separates, however these should be only be worn very occasionally and with extra care.
Otherwise, simply pair your hopsack blazer or sportcoat with tailored tropical wool pants, khaki chinos or even jeans, as its texture-rich weave presents another advantage: it can be worn just as easily with either formal or casual pants.
Cad & The Dandy bespoke H&S mesh jackets start at $1980, H&S hopsack jacket start at $2280, HFW Fresco Mock Leno jacket start at $2280. For more information, email nyc@cadandthedandy.com, call 917-400-4804 or book a consultation online.
Written for Cad & The Dandy by Eric Twardzik, a Boston-based writer focused on food, drink and classic men's style. His work has featured on Vice.com, Robb Report, InsideHook and Ivy-Style.com, among many others.
MORE
Bespoke Garment Wear & Care
Bespoke Engineering – Part I: Casual Shirt Collars

New Beginnings for Jeremy Haines – Summer