Custom Morning Dress
Morning dress is a term also used for morning suits. Any occasion that calls for such a dress code needs an ensemble that is both well considered and beneficial to the wearer.
Morning dress is also a popular choice for custom wedding suits for men. The traditional elegance of a custom morning suit adds gravitas to wedding events. With a stipulated dress code, this can extend from just a groom suit to all the male guests and the groomsmen suits too.
At Cad & The Dandy we understand that the simplicity of this style means that the cut is absolutely key. Our team of tailoring experts ensure that every formal garment we make respects its classical roots whilst bringing the traditional firmly up to date.
With in-depth knowledge, our dedicated tailors are on hand to advise and guide you through the details and demands of your every bespoke formalwear need.
– We have hundreds of classic cloths to choose from
– Garments range from custom wedding suits, dress shirts to full formalwear ensembles
– Our expert tailors have extensive formalwear knowledge
– Book in New York, Boston, Philadelphia, Washington DC, London or Stockholm
– Garment construction takes between 8-10 weeks, on average
Related Blog Posts
Read more about our formalwear in the blog posts below.
Smoking Jacket or Tuxedo? Discerning the Difference
December 30th, 2022
"Smoking or non-smoking?" In a bygone era, such a question may have determined whether you wished to light a Marlboro between your appetizer and entrée course. But in today's tobacco-free […]
WHITE TIE DRESS: THE EXPERTS' GUIDE
December 5th, 2021
Following on from our Black Tie Dressing post, our focus now turns to the more formal White Tie. Beginning with an interesting aside, it's worth noting that the classic "white […]
Black Tie Dress: The Experts' Guide
November 26th, 2021
Now that a sense of normality seems to be returning to daily life what will we wear in public? Particularly at holiday gatherings? Will we want to show up in […]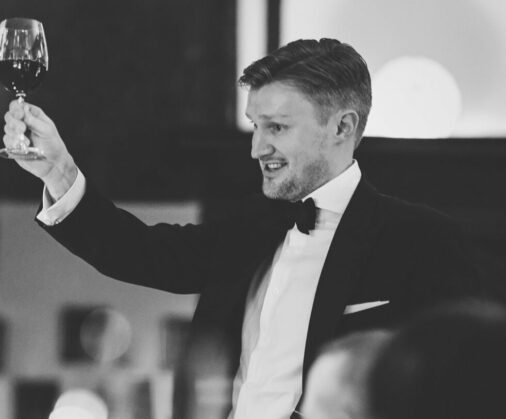 Black Tie Etiquette
February 9th, 2018
Not just for formal events, black tie is becoming evermore popular at weddings. Don't know your cummerbunds from your dress stripes? We've put together this simple guide to help you […]